In December, 2002, the San Francisco Chronicle asked readers to share their favorite holiday memories. I submitted this brief story in salute to my Mexican grandfather, Margarito.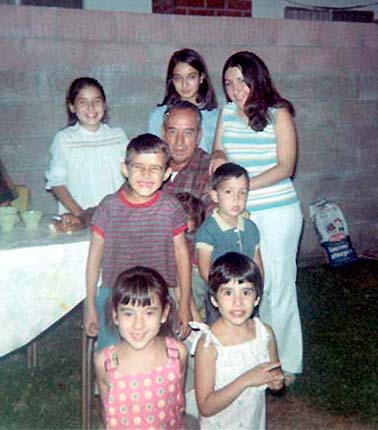 The original story can be seen here.
As the youngest of five daughters in a blue collar family from East L.A., every Christmas I was lucky that my parents were great at hiding the sacrifices they had to make to put presents under the tree and tamales on the table.
Each year, my Dad's father, our TaTa (slang for "Grandpa" in Mexican- Spanish) sacrificed, too, by making the long once-a-year journey from Guadalajara to spend the holidays with us. We eagerly awaited his visit all year long.
Finally, the day would come when all of us would pile into Dad's pickup/camper and make the four-hour trip to meet him at the Tijuana airport. I was nearly 30 when I finally asked my parents "How come TaTa never flew directly to L.A.?" They burst out laughing.
"Ay!" my Dad said. "He wasn't exactly a citizen, he couldn't just come on over! Duh! Get it?" The light bulb went on!
Almost as soon as we got home, TaTa would start pulling presents from his suitcases . . . little handmade doll dishes, rabbit pelts, colorful beaded necklaces. Within a day he, a great cook, would start sharing the kitchen with Mom, and the Christmas cooking fest would begin as they'd churn out the best salsa, rellenos and tamales our family would eat all year.
When he left, we were all sad to see him go, knowing it would be a year before he returned. TaTa died in '79, but his memory lives on, especially when we gather to make tamales, just before Christmas.
During that annual daylong tamalada, you can practically feel his presence standing alongside Mom in the kitchen, as she dictates the tamale-making process to my sisters and the grandkids. His tamale recipe is emblazoned in Mom's mind, his culinary expertise a gift he gave to her so many Christmases ago. My sisters and I only hope that someday one of us will do as well at passing on the tamale recipe, and make them at least half as well as Mom does.