My company was selected for a major rebranding project of the Eureka Redevelopment Agency in Eureka, CA. The scope of the project included designing a new logo and writing and designing new marketing/program materials and their website.
For the website, I was called on to generate content for each section, as seen here in the Welcome Page.

Welcome … How can we assist you?
Welcome to the Eureka Redevelopment Agency web site. We developed this site to better serve our clients with a wealth of information about our services. Please visit the links at left to review our various assistance programs.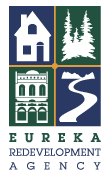 Check out our newsletter for regularly updated articles of interest. In the resources section you will find various informative web links and documents. Visit our gallery to see photos and descriptions of past projects. Or contact us anytime for personal assistance with your specific needs.
Established in 1970, the Eureka Redevelopment Agency is a separate legal entity from the City of Eureka. The Agency receives primary funding from tax increment revenues as a result of the establishment of three redevelopment project areas.
The main function of the Agency is to ensure compliance with all established objectives and policies when implementing redevelopment activities within the City of Eureka. Our primary goal is to revitalize project areas and improve the economic base of the community by facilitating both redevelopment and economic development activities.
The Eureka Redevelopment Agency strives to create a vibrant, livable and thriving community by:
Fostering commercial growth and residential development in the downtown and Old Town areas, the Waterfront, and the Westside Industrial areas
Creating programs that stimulate employment and generate robust industries ranging from agriculture to high tech to tourism
Collaborating on projects that elevate Eureka's position as the commercial, cultural and social hub of the North Coast
Advocating for diverse housing projects that meet the needs of all residents
The City of Eureka enjoys many notable designations that assist new and expanding businesses. Nearly all of the Eureka Redevelopment Agency project areas lie within an official State of California Enterprise Zone, and many surrounding areas fall within Federal U.S. Foreign Trade Zone boundaries.
Please continue to explore our website for a variety of business finance assistance options to expand, purchase or improve a commercial building, acquire working capital, or purchase manufacturing equipment.